I hope this isn't too out of order to post this here, but I've seen my website mentioned on here before and this community seems like a good one to talk to.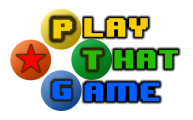 My name is Peter. I've been a member of these forums for over 3 years and I run
Play That Game
. It's basically a Acclaimed Music or TSPDT-style website, but for video games.
The reason I've posted is three-fold.
Firstly, just to say thank you to everyone whose posted video games list in these forums. I have, like, 10 daily Google Alerts and yet you guys manage to find lists that those searches don't. So, thank you for that!
Secondly, just wanted to recognise how inspired I was by this site to go out and create my own! Without the amazing work here I would have
never
have put the work into my own.
Finally, just wanted to put out there that I'm doing my bi-annual list update at the end of the month - so if you have any more lists I would be grateful if you continued doing the good work.
Thank you so much, I know this was a long post