This topic is part of the weekly 10.000 songs, 10.000 opinions. In this, every week another song from the Acclaimed Music song top 10.000 is selected for discussion. The song is chosen completely at random, through random.org, making the selections hopefully very varied. The only other rule in this is that after an artist has had a turn, he can't appear for another ten weeks. The idea for this topic came to me because I wanted to think of a way to engage more actively with the very large top 10.000 songs that Henrik has compiled for us, while still keeping it accessible and free of any game elements. Yes, that's right, no game elements. You are free to rate the song each week, but I'll do nothing with this rating. I want it to be about people's personal reviews and hopefully discussions. So in reverse to other topics on this site I say: "Please comment on this song, rating is optional".
Earlier entries of this series can be found here: archive.
----------------------------------------------------------------------------------------------------------------------------------------------------
"We're singin' it because you ask for it/ So we're swingin' it just for you"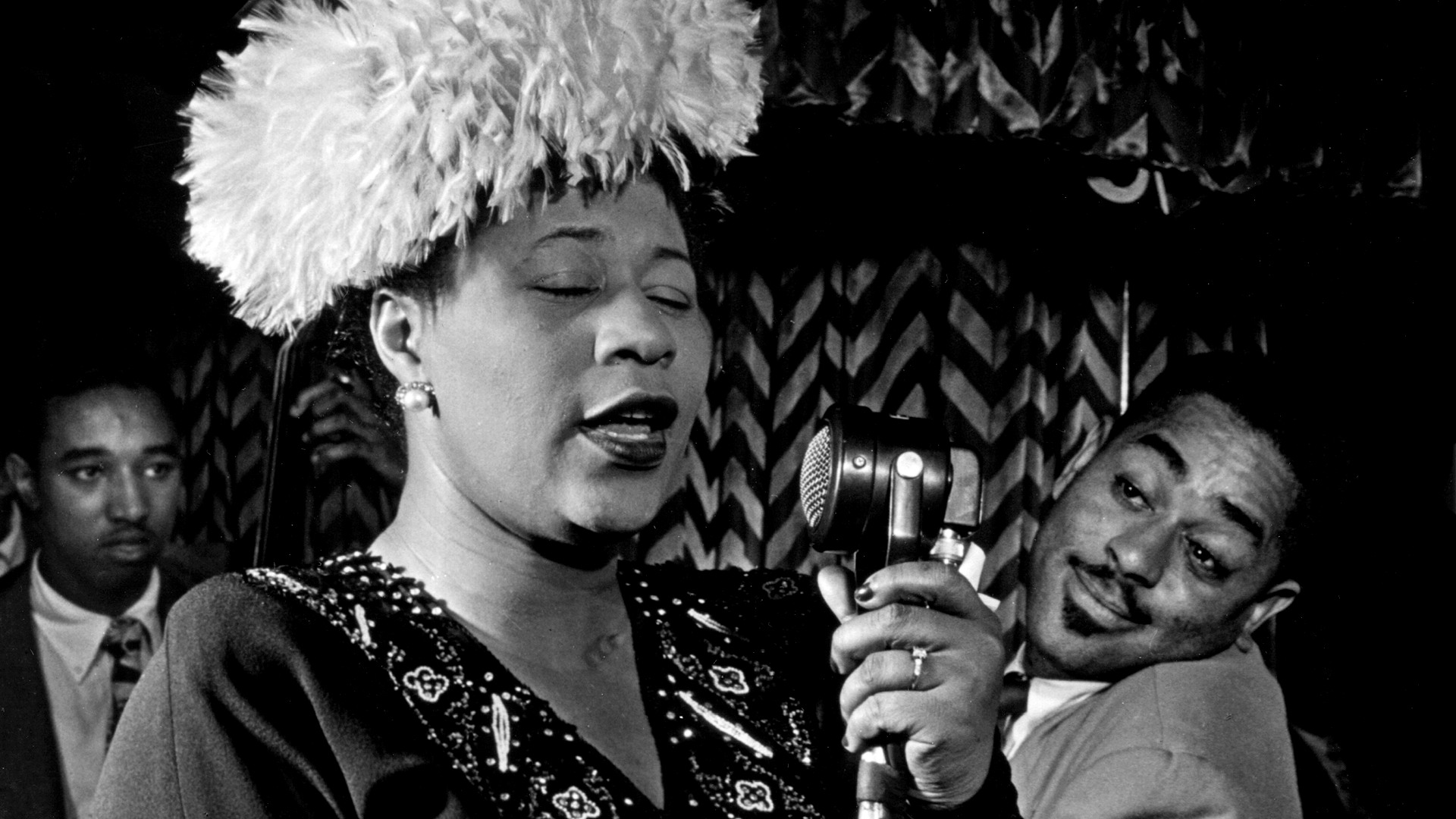 116. Ella Fitzgerald – How High the Moon
The facts:
Year: 1948.
Genre: Vocal jazz.
Country: United States of America.
Released as a single.
Acclaimed Music ranking: #9516.
Song ranking on Acclaimed Music in the artist's discography: 8th.
Ranks higher than God's Gonna Cut You Down by Johnny Cash, but lower than Battle for Middle You by Julio Bashmore.
Place in the Acclaimed Music Song Poll 2015: unranked.
The people:
Lyrics by Nancy Hamilton.
Composed by Morgan Lewis.
Vocals by Ella Fitzgerald.
Instruments by The Daydreamers*
* Sadly, I have not been able to find the names of the members of The Daydreamers.
The opinion:
How High the Moon is an American standard. I guess it is part of the Great American Songbook. As such it has been performed a lot. So much actually, that you could divide this one song into several separate songs that just happen to have the same lyrics. There is the original, slow musical number, written by Nancy Hamilton and Morgan Lewis for the revue Two for the Show in 1940. There is the rock-like country tune made famous by Les Paul and Mary Ford, in perhaps the most well-known recording of the song. Than there is also the uptempo jazz song, usually performed with scatting vocals, of which the standard has been set by Ella Fitzgerald. Most musicians who cover the song take one of these three separate approaches. There is still room for new interpretations though. Gloria Gaynor, for example had a hit with a disco version in 1975 (the only Great American Songbook song ever to do so?).
That's a long history in a nutshell. Needless to say, this song has been around and is one of those unseen forces that sneakily helped shape a lot of music during the period of say 1940 to 1960. As said, it was first a musical number, a slow serious song in the midst of a more comically minded revue. Nancy Hamilton was a woman who tried her hand in many different arts, but fame or success kept alluding her. She started writing the show Two for the Show basically to give her and her friends some roles. It didn't really last. Hamilton would hardly have big career as a playwright or an actress. With her collaborator Morgan Lewis she wrote some more songs, a couple of which became minor hits but are now mostly forgotten. She tried her hand at movie writing and producing too and would win an Oscar as a director of her only movie, the documentary The Unconquered. Looking through her working life is like reading a mess of a biography of a woman who seemed ready to try everything, but didn't stay at one art long enough to develop. As such, she is now mostly remembered for writing one song: How High the Moon (the same goes for Morgan Lewis, but he seemed to mostly have gone were Hamilton led him).
Despite the fact that How High the Moon was not written or composed by notable Broadway musicians of the time it quickly drew attention from jazz players. The chord progression was unusually complex for a musical song and therefore had something to offer jazz. Already in the year Two for the Show landed on the stage Bennie Goodman made a recording of How High the Moon. It quickly became a standard, as well as an inspiration. Charlie Parker based his composition Ornithology on it and so did John Coltrane later with his Satellite (the title is an indirect reference to its inspiration).
When Ella Fitzgerald came to it in late 1947 her career was going through major changes. She had first come to prominence in the late 30's with unsophisticated novelty songs that were both popular and much ridiculed. During the 40's she dove deeper into the jazz sound and started to attune her vocals to the music of bebop. Eventually, of course, she would become most known as the ultimate performer of the Great American Songbook, next to Frank Sinatra, but that is another story.
Around 1947 she recorded for Decca with several backing bands. In December she did six singles with a group named The Day Dreamers, who now are hardly a footnote in music history. Still, among these six tracks was How High the Moon. The song would not become a hit initially in 1948 for Ella Fitzgerald, but a live rendition in 1960 would make the lower ends of the Billboard. It is now one of Fitzgerald's most well-known recordings. It captures her style from that phase of her career particularly well.
Like the famous recordings that would follow in the fifties this original version of How High the Moon already sounds classy, with sophisticated playing and perfect singing. It stands out among other standards though, in the scatting vocals that Fitzgerald decided to add to the song. Although the original composition was meant seriously, Fitzgerald took it far more lightly and made it more funny and playful. The jazz performers before her had already turned the slow track into a fast swinger, but Fitzgerald went beyond that. She already announces that "the words to this song may be wrong" and then just starts scatting nonsense. What is most remarkable is that she vocally changes the melody to that of Charlie Parker's Ornithology: her How High the Moon pays tribute to a song that pays tribute to How High the Moon.
She went further in this direction with her 1960 live recording. Originally appearing on the live album Ella in Berlin: Mack the Knife, it is a six minute plus version with a lot of scatting and even more references. Besides Ornithology, she quotes Smoke Gets In Your Eyes (as Sweat Gets in Your Eyes), Stormy Weather, A-Tisket A-Tasket, I Lost My Yellow Basket, Tropical Heat Wave and maybe some I didn't recognize. Hey, if jazz musicians can improvise, why not the vocalists? During the same concert she did an even better improvisation on Mack the Knife, not because she planned so, but because she forgot the words. That became one of her most-loved recordings.
Both the 1948 take as well as the 1960 live one are classics in their own right. Which is the definitive version is a matter taste, although they have the same appeal. For me, it shone new light on Ella Fitzgerald, whose music I hardly knew, but always thought would be somewhat more calm and frankly a bit boring. This song, as well as the Ella in Berlin album suggest a far more fun-loving and lively performer, who is even a bit more modern than I guessed.
Of course there are other takes on How High the Moon to check out. The version by Les Paul and Mary Ford is the most famous and revolutionary one and is essential listening. Still, Ella Fitzgerald's take might hold more appeal to people who would not normally listen to vocal jazz.
8/10
Other versions:
There is an endless supply of songs here. As I said, the Les Paul and Mary Ford one is basically an essential classic. Not only is it the most successful version, but it was a song on which Les Paul pioneered multitrack recording. A whole entry on it could easily be written and if you don't know it, you're missing a piece of music history. Most covers aren't in the style of Les Paul and Mary Ford, but Jeff Beck did it that way in a tribute and the day Les Paul died Phish did a quick cover during a concert. Both versions are worth checking out. I think Emmylou Harris excellent cover – one of the fastest - is also inspired by this example.
Then there is the Gloria Gaynor cover which is in glorious disco style. I didn't think I needed it beforehand, but it seems disco suits the tune more than expected. There are also bossa takes by Stan Getz and Cecilia Dale. Pat Suzuki added oriental flourishes. But these are outliers. The rest is mostly jazz.
There is no point in going through all of this, but it should be said that pretty much every version I heard is lively and inspired. There are jazz improvisations by such names like Sonny Rollins and Erroll Garner. There are more faithful renditions by Duke Ellington, Chet Baker, Nat King Cole and Bennie Goodman. And there are the vocal workouts by such names as Anita O'Day, Louis Prima, June Christy (accompanied by Stan Kenton) and even Marvin Gaye, who seemed to pursue a vocal jazz path at the very beginning of his career. The one that stands out the most, though, is the one by Sarah Vaughan, who actually parodies Ella Fitzgerald, by naming her and ridiculing the lyrics through improvisation. Good fun.
The playlist:
Phish performing How High the Moon live in tribute to Les Paul
And that's it. My last entry for this series. Hope you enjoyed it.