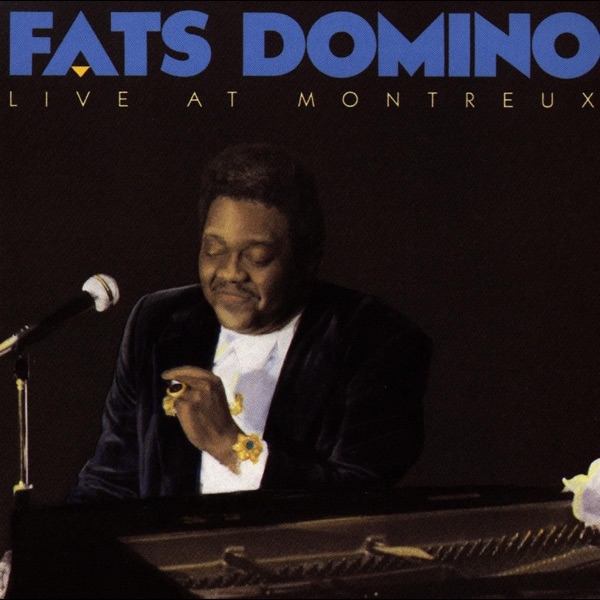 Fats Domino – Live at Montreux
Merry Christmas everyone! To celebrate I give you a happy album that might not be Christmas themed, but at least it gives you a good mood guaranteed.
Most people who did this Album of the Week thing seem to have some history with the album. I only know Live at Montreux since very recently, when Fats Domino died on the 24th of October. That was when this series was started and I had it on my mind. I immediately wanted to share it. Not much of a backstory there.
Still, this is a truly great album. Fats Domino is a musician of the fifties, so he is mostly known as a singles artist. Like many contemporaries he lacks a true legendary album. Rock and Rollin' with Fats Domino ranks at #2063 on AM and while it is fine, it is truly something as a stand-in because there is no "great" Fats album. When he died I was looking for something special to commemorate him. Why not try a live album? I had never heard any live recordings from him, but somehow guessed that he might put on a good show.
I was right. The Live at Montreux album was chosen somewhat at random. It was a recording from a 1973 concert, which means that it is from the time he had already abandoned writing new songs. By the end of the sixties he felt that his music had lost its appeal to audiences and decided to focus on shows only. You might expect that Fats was winging it by this time, with nothing left to prove. You would be wrong.
Live at Montreux is an album from an artist full of life and energy. These are all songs he recorded before in the studio and most of his famous tracks are here. I miss breakout single The Fat Man here, especially because that is a great rocker unto itself. Still it is hard to find serious fault with this selection. Fats Domino has described himself as lazy many times and his relaxed demeanour has made him one of the least tough and fast artists of the early rock era. Sure, he had real rockers, like I'm Walking and the earlier mentioned The Fat Man, but most of his work was very gentle compared to contemporaries. The great Blueberry Hill functions more as a ballad than as a rock & roll tune.
You wouldn't notice it here. In Montreux, Domino rocked hard. Really, really hard. This is still the classic rock & roll sound. He doesn't update his music for the trends of the seventies. This is piano boogie from the fifties. But damn, he gives Little Richard and Jerry Lee Lewis a run for their money. It's like he wants to prove he is not so lazy after all. No balladry here, this is a party, with Domino whipping up the audiences like there is no tomorrow. His backing band is game too. Though Domino's piano is the main attraction here I want you all to give a warm applause to the horn section.
As said, the songs are familiar, just reinvented to fit a higher pace. I love the most raucous songs in particular. On Jambalaya, Domino's horn section seems to get stuck on repeat after a while and it is glorious and funky. Mardi Grass in New Orleans seems to be an instrumental for a moment, until Domino lets loose. Let the Four Winds Blow is a monster. When the Saints Go Marching In replaces every pretence that it is a religious song and becomes a honest to goodness epic. The finale – A Sentimental Journey – is as gentle as it gets and offers a nice coda to the concert.
If ever the search for a great album from Fats should be continued I point this way. Right now it doesn't even rank as a minor classic. I don't know other live albums by Fats Domino, so perhaps others from his are great too. Perhaps it was overlooked at the time, because it was released well after Fats Domino's prime. Who knows, the renaissance might start here.