This topic is part of the weekly 6000 songs, 6000 opinions. In this, every week another song from the Acclaimed Music song top 6000 is selected for discussion. The song is chosen completely at random, through random.org, making the selections hopefully very varied. The only other rule in this is that after an artist has had a turn, he can't appear for another ten weeks. The idea for this topic came to me because I wanted to think of a way to engage more actively with the very large top 6000 songs that Henrik has compiled for us, while still keeping it accessible and free of any game elements. Yes, that's right, no game elements. You are free to rate the song each week, but I'll do nothing with this rating. I want it to be about people's personal reviews and hopefully discussions. So in reverse to other topics on this site I say: "Please comment on this song, rating is optional".
Earlier entries of this series can be found here: http://www.acclaimedmusic.net/forums/viewtopic.php?f=2&t=3065&p=45337&hilit=archive#p45337
----------------------------------------------------------------------------------------------------------------------------------------------------
"C'est une chanson qui nous ressemble"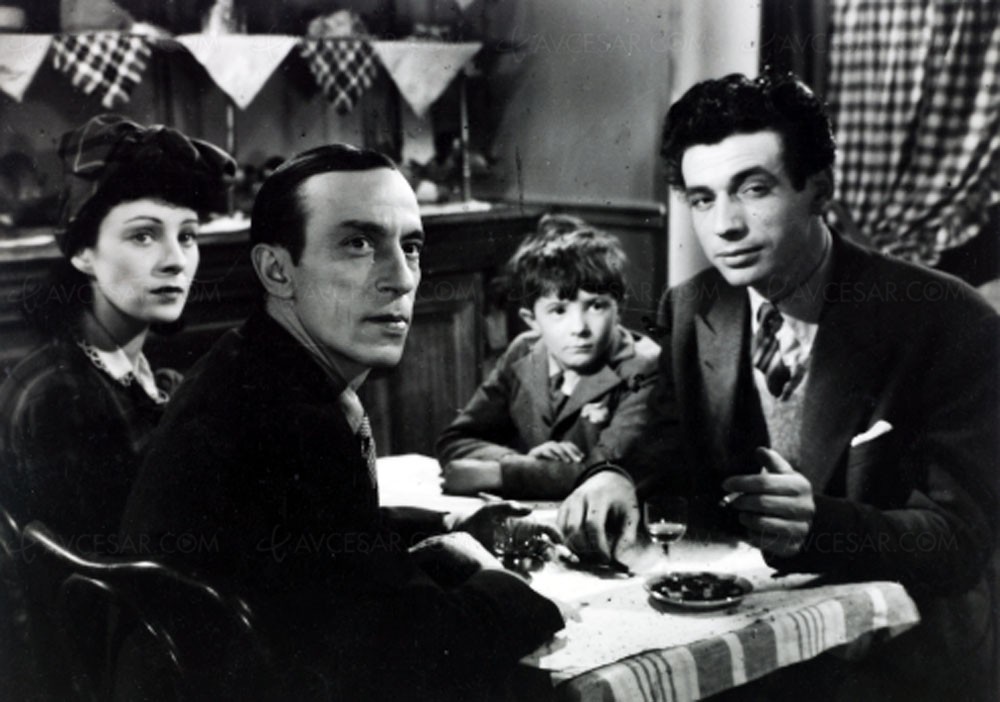 97. Yves Montand – Les feuilles mortes
The facts:
Year: 1946 or 1949, really dependent on how you look at it (see main text below).
Genre: Chanson.
Country: France.
Released as a single.
Acclaimed Music ranking: #2211.
Song ranking on Acclaimed Music in the artist's discography: 1st, the only one.
Ranks higher than Cavern by Liquid Liquid, but lower than 4th of July, Asbury Park (Sandy) by Bruce Springsteen.
Place in the Acclaimed Music Song Poll 2015: Unranked.
The people:
Lyrics by Jacques Prévert.
Composed by Joseph Kosma.
Vocals by Yves Montand.
Note: I've tried, but I really can't find anything about who played on this song, or even who produced it. If anyone knows more, specifically about the 1949 recording, please let me know.
The opinion:
In 1946 film director Marcel Carné came fresh of his biggest success: the timeless classic Les enfants du paradis. His follow-up was met with great expectations. It became the war-time drama Les portes de la nuit. Sadly, it did very little with audiences and critics now see it as one of Carné's lesser films (I haven't seen it myself). It didn't become a classic and like most films Carné did after Les enfants du paradis it would now be forgotten, if it wasn't for one little fact: it became the first place people would hear one of the most ubiquitous tracks of the post-war era: Les feuilles mortes.
Maybe you're not French and the song title doesn't immediately say anything to you. However, you might know it under the English name Autumn Leaves. In that way it has become both a jazz standard and one of the most performed vocal ballads of the pre-rock era. Not that the French version did bad for itself, it is also an evergreen chanson. That are three styles the song is a classic in. That only the Yves Montand version appears on Acclaimed Music is a huge surprise, though I can't imagine it will last. Other versions will probably pop up in the future.
Why is it the version by Montand that appears here? Well, he performed it first. More or less. He is one of the main actors in Les portes de la nuit. During one scene he sits in a café with friends and a guy at the bar starts playing a tune on his harmonica. This inspires the character played by Montand to write lyrics for it on the spot and he softly sings some parts of it along while the harmonica player keeps performing (the scene can be seen below, without English subtitles which I don't think you'll need). Later the song appears again in the film, this time sung by Irène Joachim. Joachim isn't actually an actress in the film, but lead actress Nathalie Nattier couldn't actually sing, so Joachim provided the dubbing. An actual recording of Joachim singing it outside of the film scene itself doesn't exist as far as I can tell.
Neither did Montand immediately record a full version. Considering the film wasn't a real success I don't think a single was requested. Still, Montand seems to have liked the song, because he started to make it a part of his live set. Personally, I know Montand mostly as an actor of many classic French movies and didn't know he sung on the side (I'm not alone, outside of France Montand is far better known as an actor than as a singer). Turns out singing was hardly a side job for him. He actually entered showbusiness as such and was discovered in the early forties – during the French occupation by Germany - by no less than Edith Piaf, with whom he formed a couple for a time. For slightly less than 10 years, Montand almost exclusively appeared in roles based around his musical capacities. Only when he starred in the classic Les salaire de la peur in 1953 was he acknowledged as a "serious" actor and did his career take another turn. That's the Montand we know outside of France.
Quickly after the release of Les portes de la nuit, some French performers recorded the song, but still it went largely unnoticed. Montand finally recorded a real single of the song in 1949. It wasn't an immediate hit, though. Only in 1953 did his song hit the charts and did it become a part of French chanson history.
In the meantime, the song had already been translated in English, as early as 1949 (or 1950, accounts vary). There is a nice parallel between the history of the French and the American version of the song. Both versions came about as assignments. The tune was composed by the French-Hungarian Joseph Kosma, who wanted to use it for an unproduced opera. When asked to provide a song for Les portes de la nuit (he was also the composer for Les enfants du paradis), he delivered this abandoned tune he was proud of. His close writer-friend Jacques Prévert (also the screenwriter for both Les enfants and Les portes) thought it suited a poem of his and that's how the lyrics were added.
The English version was also an assignment. Johnny Mercer, who a few years earlier was one of the prime songwriters from Tin Pan Alley and for Hollywood movies, experienced a lull in his career. He would bounce back soon enough, but around the late forties he really took any assignment he could get. Michael Goldsen, head of music publishing at Capitol Music, wanted a translation of Les feuilles et mortes. No other reason was given than that Goldsen really liked the then-obscure French track. I guess he thought there might be interest in an English version. Mercer took the assignment and wrote it during a quick train ride. Despite it being a rush job it moved Goldsen and subsequently a lot of people. The English song was named Autumn Leaves, a slighty less depressing title than the direct translation "The Dead Leaves".
The song was given to Jo Stafford to sing. Stafford was an up-and-coming singer who just hadn't made the big time yet. This song wouldn't help. Success came later for her and for Autumn Leaves. Like in France, the general public just didn't take to the song immediately. Only in 1955 did jazz pianist Roger Williams take the song to change it into a beautiful but fierce jazz track. His wordless, piano-only version became a surprise hit and suddenly the song started to jump up everywhere. Vocalists turned to the ballad version en-masse and almost every jazz artists cut their own take of it (I'm not exaggerating; this was performed by among many others Duke Ellington, Miles Davis, Cannonball Adderley, Bill Evans, Chet Baker, Erroll Garner, Louis Armstrong, Andy Williams, Toots Thielemans, Chick Corea and even Stan Getz; quite the jazz line-up).
A few versions became hits, but for a big part it seems to be a musicians favourite, perhaps best exemplified by the fact that jazz players love it so much. I mean, jazz is an American genre, but this French chanson managed to become supposedly the 8th most performed song in jazz history. It's said to the only non-American standard of the jazz canon. So what made this track suddenly so popular that everyone and his dog felt the need to play it?
I come up empty-handed for an answer, actually. I do really like some versions, especially the Roger Williams breakthrough, the stunning Errol Garner take and the particularly soulful rendition by Frank Sinatra. Even these versions, though, are so different that I can't quite pin down the appeal to the same attributes.
It's best to turn to the core song, the Yves Montand recording of 1949 (or should we go to that lonely gut playing the harmonica at the bar in Les Portes de la nuit? Let's not). And again I come up empty handed. It's a solid piano tune I guess, more up-tempo than most other vocal versions. But speaking strictly for myself, it does little. Montand has a pleasant voice and nails it, sure, but not in a way that strikes me as unique. Maybe it helps to speak French? I know Jacques Prévert is highly estimated as a writer, so perhaps his poetry is part of the appeal. I have checked a translation, but that might not capture the beauty of the original words. Johnny Mercer's lyrics, by the way, are very solid, but like a lot of Mercer a little too clean to really touch me.
Montand tried to make it easy for me. He recorded it a couple of times, after the song became a hit. He used different styles. The 1949 may not even be the definitive cut. On the many, many Montand compilations the various versions changes places. Most popular besides the 1949 take seems to be one that starts with the first lines performed in deep spoken-word style and which later features a real sax solo. Not enough for me. It just shows how much Montand loved this song and I kind of like how dedicated he was to it. He just doesn't provide the spark that does it for me. Of course, history has shown that I'm alone here, in a big way. I just wish I could explain its enormous success across decades, genres and countries. There must be something here that I don't hear.
6/10
Other versions:
The point of the main text is mostly how big this song has become among performers. There are really a lot (a lot!) of performers who did this and you could make a life career of examining them all, as there is a big variety among them. I already the many jazz names that performed Autumn Leaves. That is ignoring the group of people that have dedicated their careers to the American Songbook (being a French song, this is more an honorary member of that Book). Almost all of them, save Rod Stewart, have done it (some in French): Franks Sinatra, Bing Crosby, Tony Bennett, Barbra Streisand, Vera Lynn, Tom Jones, Joan Baez, Nat King Cole, Ray Charles, Doris Day, Nana Mouskouri, Andrea Bocelli, Seal and even Bob Dylan in his current Sinatra-phase.
You might have guessed all these names, but there are oddities too: Iggy Pop (in terrible French), Eric Clapton (disappointingly traditional, although perhaps I should have seen that coming), the Everly Brothers (the most poppy version), Mark Lanegan (terrific!), Michel Legrand (masterful in a big orchestral style), Gene Pitney (everything is a country song for this guy), The Coasters (well, it makes an obvious soul songs, doesn't it?) and… Grace Jones? Yes, she made a sort of slow-disco version of it in her early career. It's probably the weirdest cover of them all, and all the more appealing for it, despite her horrific command of the French language. I prefer this later group a little over the American Songbook stars, as those tend to be a bit too reverential, outside of a Sinatra's particularly emotional version and the loveliness of the Joan Baez and Nat King Cole covers. But mostly, I prefer the jazz performances. I already mentioned Errol Garner and Roger Williams, but Toots Thielemans also provides a great take.
Among the chansonniers, Edith Piaf is not just significant to mention because of her personal ties to Yves Montand, but also because the song suits her vocals very well. She also did it in both French and English. Finally, Sergé Gainsbourgh didn't cover the song, but clearly references it in his tribute to Jacques Prévert, named Le chanson de Prévert. He let Jane Birkin perform it and it is quite good.
A mention should also be made of the cover by Eva Cassidy, which seems to be particularly popular by audiences at large. I can't for the life of me see why, because her take was probably the 1000th in that style. Then again, I'm not a fan of her type of over-emoting, so it is perhaps just me (once again).
The playlist:
Two scenes from Les Portes de la nuit, introducing Les feuilles mortes:
As performed by Ray Charles (I think, the video doesn't credit him):
Further reading:
For those who like to get an more in-depth look at how the song developed from a compositional viewpoint when it went from a chanson to a jazz song, this article by Philippe Baudoin is recommended reading:
https://www.crj-online.org/v4/CRJ-AutumnLeaves.php#fn1