This topic is part of the weekly 6000 songs, 6000 opinions. In this, every week another song from the Acclaimed Music song top 6000 is selected for discussion. The song is chosen completely at random, through random.org, making the selections hopefully very varied. The only other rule in this is that after an artist has had a turn, he can't appear for another ten weeks. The idea for this topic came to me because I wanted to think of a way to engage more actively with the very large top 6000 songs that Henrik has compiled for us, while still keeping it accessible and free of any game elements. Yes, that's right, no game elements. You are free to rate the song each week, but I'll do nothing with this rating. I want it to be about people's personal reviews and hopefully discussions. So in reverse to other topics on this site I say: "Please comment on this song, rating is optional".
"Don't know what I want/ But I know how to get it"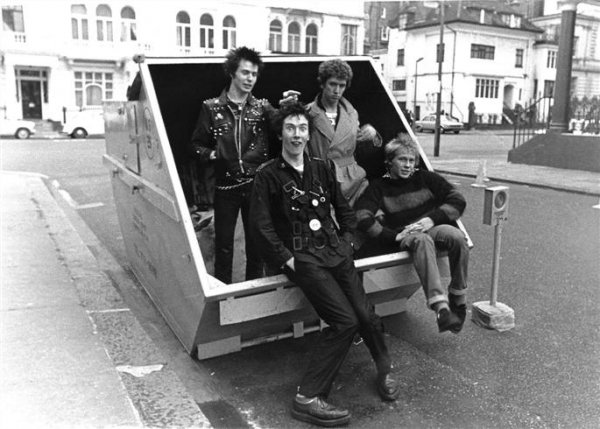 26. Sex Pistols – Anarchy in the UK
The facts:
Year: 1976.
Genre: Punk.
Country: United Kingdom.
From the album: Never Mind the Bollocks, Here's the Sex Pistols.
Acclaimed Music ranking: #19.
Song ranking on Acclaimed Music in the artist's discography: 1st.
Ranks higher than Sympathy for the Devil by The Rolling Stones, but lower than Go Only Knows by The Beach Boys.
Place in the Acclaimed Music Song Poll 2015: #79.
The people:
Produced by Chris Thomas, Bill Price & Dave Goodman.
Lyrics by Johnny Rotten.
Lead vocals by Johnny Rotten.
Backing vocals Steve Jones & Glen Matlock.
Guitar by Steve Jones
Bass by Glen Matlock
Drums by Paul Cook
The opinion:
I've alluded to it before, but Rock music criticism is a strange beast. Look for example to the place The Sex Pistols hold in rock history. It is not exactly uncommon in arts that controversial outsiders become emblems of change. Far from it. Similarly, in a time when modernism and postmodernism already changed the way we looked at proficiency in art, it wasn't weird to see such a thing happening in pop music. If punk hadn't hit in the seventies, something similar would have happened at another time, I suspect. Yet in most arts there are still a lot of people who miss the proficiency. For many, the incredible detail in painting someone like Rembrandt managed is still held as a highpoint in visual arts. In comparison, the musical talents of, say, the members of Yes have never truly regained appreciation. The Sex Pistols and other punk bands have become something of a standard of true rock.
Although I like punk and think it's a wonderful way to take rock I never completely understood the almost complete rejection of prog-rock by music critics and the Godly embracement of punk rock as the True Path. There is a place for both of them I think, but it is weird to look at a barely talented band like The Sex Pistols as a gang of musical prophets.
It's a sign of the time, of course. The Sex Pistols were a very relevant band, in- and outside of music. Mostly outside of music, though, because most of their music was banned in the UK at the time and therefore didn't even have the possibility of becoming hits. Outside the UK they were never that big, which is understandable, because their lyrics, although containing a universal feel of danger and violence, are filled with details that only the English really understand. Johnny Rotten had it in for the British establishment in particular. Besides, he has a very pronounced accent that I can't always follow. A lot is lost in translation for people outside of the UK, even if they actually speak English.
Yet this specificity is also part of the appeal of The Sex Pistols. It is probably what fuelled them, Johnny Rotten in particular. He lashed out at things he knew and targeted things that angered him. For me, the attraction to The Sex Pistols comes mostly from Johnny Rotten's vocals. He's not so much a singer as a violent dog with rabies, trying to bite everything that even slightly provokes him. He growls and snarls with anger, though at the same time he seems to be the happiest dog with rabies ever. He is clearly having a ball. Another gift Rotten had was a great feeling for sarcasm and funny lyrics, which helps him immensely to make his growling appealing.
I'm of mixed feeling about The Sex Pistols overall output (and there isn't exactly much of it). I always like the energy and in the right mood I can really appreciate their loose approach. Yet, Anarchy in the UK is the only one that completely works for me all the time, outside of its album and outside of its context. It's were everything that makes this band great come together and perhaps the only song of them were all band members seem to be better than usual, without compromising their sound. The song has swagger, punch, furious energy and above all attitude that few punk songs ever have matched. Besides, it's one of those few overtly political songs that is completely entertaining, with Rotten spewing off insults and strange questions in all directions. Punk works the best when it combines anger with humour, at least for me.
I mostly praise Johnny Rotten here. That seems like a snark towards the other band members and actually it kind of is. Musically, The Sex Pistols never had quite as much their own identity as, say, The Clash or Ramones. Sure, Jones' barely-held-together guitar is part of the appeal, but I think without the attitude, humour and snarl Johnny Rotten brought to the band they would never have become perhaps the biggest symbols of the punk movement.
Of course, there is more to punk than the music. I think the importance is almost bigger socially (in the United Kingdom, at least) than musically. In that view, The Sex Pistols were key in starting to give a voice to all the very angry people in Britian, while really becoming a threat to law and order in the UK. The establishment took them seriously and that's more than you can say about most bands that sing of protest and social change. Quite a feat for a band that claimed they didn't know what it was they wanted. But they held word when they said they knew how to get it.
Of course that didn't last long. Perhaps it is inevitable for a band like The Sex Pistols to crash and burn. In fact, it might be for the best because this way they never became part of the establishment. Their name as dangerous demons of rock music remains safe for eternity (or for as long as people still slightly care for rock music). Personally, I'm a bit sad that prog-rock died a premature death, but I'm glad we got Anarchy in the UK, because sometimes anarchy is the only way to be.
9/10
Other versions:
I have a soft spot for artists who interpret already existing song in a completely new way. Well, it seems that Anarchy for the UK has been performed in every existing music genre you can think of. This is perhaps the first time I noticed I didn't want there to be another version than the original. Not a single one of the covers in the playlist below works. Many are proficiently done. On their own they might not be that bad. The thing is, without the punk sound the song is worthless. It needs the sloppy guitars, it needs the gnarl of a Johnny Rotten, it needs to be unhinged and it definitely needs someone who sees the humour in all this. If these elements are not in place, Anarchy for the UK just doesn't make any sense anymore.
I mean, a heavy metal cover by a band like Megadeth or Mötley Crüe might seem promising on paper, in reality it lacks the wildness of the original that gives it the danger a song about anarchy needs.
But at least we can understand why metal bands might consider this song. Why would an earnest, soft-singing artist like Scott Matthew even want to perform Anarchy in the UK? Yes, Johnny Rotten sang from his heart, but he wasn't the type that wore his heart on his sleeve. Then there is a cute ukulele-version by Ukelilli. The singer sounds like a sweet girl, but this is not a sweet song. Similarly, J F Sebastian sounds like something to play when you want to cuddle your lover, not if you want to burn Great-Britain to ashes. Mambo Kurt promises in it's opening a punk song, but comes with something that sounds like a torch song.
Yet, the most inexplicable of all these covers is a so-called Bossa Version by Taryn Spzilman. It's wonderful to relax to. But why on Earth would we want to relax when we scream "I want to destroy the passerby"? Anarchy in the UK redesigned as a lounge song isn't just a huge mistake, but a big middle finger to the original song.
The punk covers work the best, but don't add much to what The Sex Pistols already gave us. None of them actually know how to match The Sex Pistols themselves. Is it telling that the best cover of this song is by Green Jelly that makes it about wanting to be Fred Flinstone instead of anarchy? The best other version I have is a live track by The Sex Pistols. It's not a hard song to perform, but only they know how to do it.
The playlist:
I added a song by Yes to this list, just because I can.
Also this: